4-H and local schools, both public and private, team up to offer enrichment programs. Forsyth County 4-H offers a number of programs, for a variety of age groups. Curriculum, training, and hands-on learning opportunities are provided for each of these experiences. In some cases, equipment is provided.

Teachers interested in this experience need to contact the Extension Office for information including dates or click on the link below for a list of School Enrichment programs available in Forsyth County.
Embryology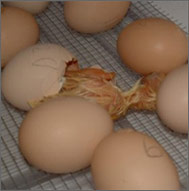 EGG-SPLORE the science of embryology from egg to chicken. Designed for students in 2nd grade it correlates well with the curriculum objectives you teach. The package includes student study sheets, websites, and a color poster.

If EGG-SPERIMENTATION and the scientific method are important in your teaching plan for 7th graders, then this curriculum is for you. The curriculum includes student activity sheets, a color poster and an interactive website.
4-H Embryology on the Worldwide Web
Arboretum Tour
The Forsyth County Master Gardeners, through NC Cooperative Extension, offer hands on experiences for third grade youth at The Arboretum at Tanglewood. These experiences encourage life long learning about our environment. Students learn about composting systems, seeds and plants, and soils. The program is designed to meet the essential standards for science.
Call the Extension Office at 336-703-2850 for additional information.
School Days
During the Carolina Classic Fair, Extension Agents from the NC Cooperative Extension Center offer information, short tours and hands-on activities for school groups ages preschool-5th Grade. This event is usually the first Monday of the fair during School Days.
Electricity
Have you wondered why just some of the lights go out, why certain things insulate us from electricity better than others, or the effect that magnetism has on various substances? Learn how to build a flashlight, build and test a compass, build an electromagnet and electric motor. Fourth graders will learn competency goal 3 from the essential standards from this exciting kit that educators can rent from Cooperative Extension's youth development program, 4-H.
Soil Solutions
The 4-H Soil Solutions enrichment curriculum is developed for a third grade audience interested in learning about plants and soils in a fun, interactive way that utilizes the local school landscape. The curriculum is aligned with the third grade science essential standards in plants and soils (competency goals 1 and 2). The lessons draw from current research and knowledge from NC State's crops, horticulture, and soil sciences department. Contact 4-H to learn how to rent a kit that contains the curriculum and the materials needed to conduct these hands-on activities.
Vermicomposting
The 4-H Vermicomposting program offers fifth-grade students an opportunity to explore a micro-community. This community contains producers, consumers, and decomposers (as all communities do). Students are encouraged to reflect upon their learning as they achieve mastery of the concepts. In producing this curriculum, we have kept in mind that teachers are busy people. Therefore, each of the six lessons is tied to the Department of Public Instruction Essential Standards. Contact 4-H to rent the research-based curriculum and purchase a worm bin!